Are you in need of a qualified tax attorney to help you with a tax issue? If you're looking for a tax lawyer in the Omaha area, you can always turn to Taxation Solutions, Inc. Our team of tax consultants includes an experienced tax law attorney who is ready to help you solve your tax problems. From helping you resolve back tax issues to offering you advice on how to end business tax issues, our tax debt attorney is here to make your tax concerns a thing of the past. Call or e-mail Taxation Solutions, Inc. today to discuss your need for an IRS tax attorney!
When you're searching for tax attorneys, there's no need to look any further than Taxation Solutions, Inc. Our tax relief attorney has the knowledge, experience, and expertise necessary to handle a wide range of tax-related issues. Turn to us for tax attorney help when you need assistance with:
Filing back taxes
Applying for installment agreements
Negotiating various tax settlements
Petitioning to lift liens or levies
Solving business tax problems
Preparing for IRS audits
Representing you in federal tax court
Securing tax and legal advice
Tax lawyers are trained to handle specific legal issues that arise due to tax concerns, and these are items that other tax consultants are not necessarily equipped to deal with. If you're struggling with tax problems that have legal implications, it's best to work with a tax relief firm that has a tax attorney on staff. That's where Taxation Solutions, Inc. comes in. When you call on us for tax help, we'll pair you with the best tax professional to meet your needs, whether that's a tax lawyer or another tax consultant.
Your IRS Tax Attorney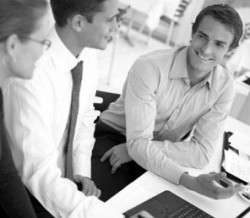 At Taxation Solutions, Inc., the needs of our clients come before anything else. No matter what type of tax situation you're currently in, our team of dedicated tax professionals will help you determine the best possible method for dealing with it. Whether you end up working with the IRS tax attorney on our staff or one of our other tax experts, you can rest assured that you'll get the assistance you need to make your tax problems a thing of the past.
We're committed to providing our clients with some of the best possible service, so come to us whenever you're looking for income tax lawyers in the Omaha area. We look forward to serving you and easing the stress associated with your tax issues!