Have you recently received a notice from the IRS regarding an upcoming audit? If you're panicking about what to do next, turn to the IRS audit pros at Taxation Solutions, Inc. Serving individuals and business owners throughout the Omaha area, we're the experts you can rely on whenever you're facing an IRS tax audit. Our skilled tax advisors will be able to provide you with the IRS audit help you need to ease the stress of the situation. With our assistance, the IRS auditing process will go as smoothly as possible. Call or e-mail us now to discuss your options for IRS audit representation!
Many taxpayers are wary of going into the audit on their own because they are concerned with having to face significant IRS audit penalties. While tax penalties may arise as an outcome of your IRS audit, there's no reason to fear when Taxation Solutions, Inc. is by your side. When you turn to us for assistance with an IRS tax audit, we'll do everything in our power to make the process as stress-free as possible as well as help you secure the best possible outcome. Our IRS audit help pros can guide you through the entire process, offering you assistance with:
Completing necessary audit paperwork
Representing you during audit meetings
Negotiating with the IRS for repayment
Helping you prevent future tax audits
And more!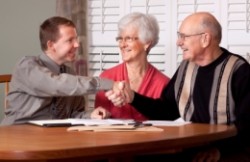 No matter what level of support you need throughout the IRS auditing process, we'll be able to accommodate you. One of our licensed and insured IRS audit defense specialists can even represent you at the audit itself. You can leave your tax concerns to us, and we'll make your case to the IRS officials.
IRS Audit Defense Pros
When you're looking for assistance with IRS tax audits, it's important to know that you're working with experienced professionals who can lead you through the process successfully. When you hire the IRS audit defense experts at Taxation Solutions, Inc., you can rest assured that you'll be working with tax consultants who have a wide range of experience with IRS auditing procedures. Our tax consultants and tax attorney have over 40 years of combined experience with IRS audit representation, and we'll use everything we've learned in the past to help you improve your tax situation.
If you're facing an upcoming audit, don't sit around and worry about possible outcomes. Instead, take charge by working with the team at Taxation Solutions, Inc., and your tax audit issues will be resolved in no time!